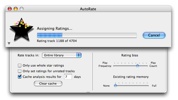 Edit: Please see the official AutoRate product page for the latest version
Hot on the heels of 1.4.1, AutoRate 1.4.2 has just been released. It has a drawer instead of a separate preference pane, and the playlist selection has moved down there.
In addition, I've again tweaked the ratings – as there's now a setting to select between play frequency and play counts, there appears to be little need for a log transform to hack the ratings (in fact, it caused problems for my library). So, it's gone – let me know how it goes.