I'm very happy to say shiny new versions of Loopy and Loopy HD are on their way!
I've had my nose to the grindstone over the past months; I've taken Loopy's insides out, given them a good, solid spit-and-polish, and put them back in. The result is a huge number of performance enhancements, much better quality audio processing, and a more robust engine (which, incidentally, is soon to start leading a life of its own). What it means for you: More stability, better audio quality, improved workflows, hugs, puppies.
It's true that this is most significantly an internal-evolution release, but there's also some new stuff in here.
Multi-Channel Audio Interface Support, Baby
The most exciting for the more serious musicians and tinkerers among us is new support for multi-channel audio inputs. When you have a stereo source plugged in, you'll have a choice of whether to record stereo, mono left channel or mono right channel. If you have a device with more than 2 channels, then you'll be able to select any stereo pair, or one particular channel.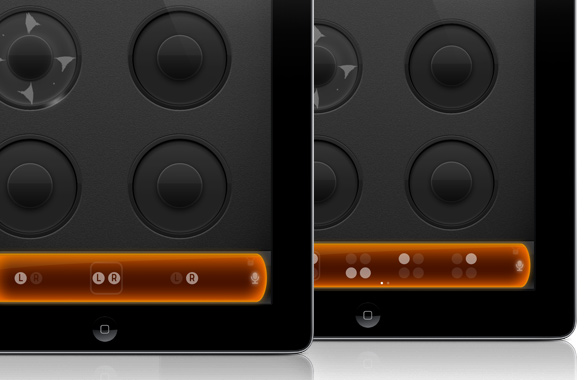 Count-In Quantize Length
By popular demand, I've also added a "Count-In Quantize Length" setting, which lets you set how long you want Loopy to count in when recording, independently of the clock length. The default options syncs with the clock length, or you can set a specific duration from a quarter of a bar, up to 16 bars.
Huge Punch In/Out Improvement
I've also made a fairly significant change to the punch in and punch out mechanism.
In prior versions of Loopy, the actual punch in/out command is fired when you release — when the touch ends. That means that if you're a slow toucher (it's okay, no one's judging you), you could miss the punch in/out point by tenths of a second. I went back to the drawing board, and came up with a new system: Loopy begins recording, in the background, as soon as you touch a track. If that touch ends up being a punch in/out gesture (instead of, say, opening the menu), then recording continues, beautifully in time. It's much more intuitive, and I think will end up making it far easier to get perfect loop timing.
Toggle Track Sync Via MIDI
I've added a MIDI-triggerable action to toggle track synchronisation with a foot switch, which makes it easy to record irregular-length tracks, hands-free.
SoundCloud Update
I've integrated the snazzy new(ish) SoundCloud interface, which looks fantastic and also takes care of all the social network sharing stuff.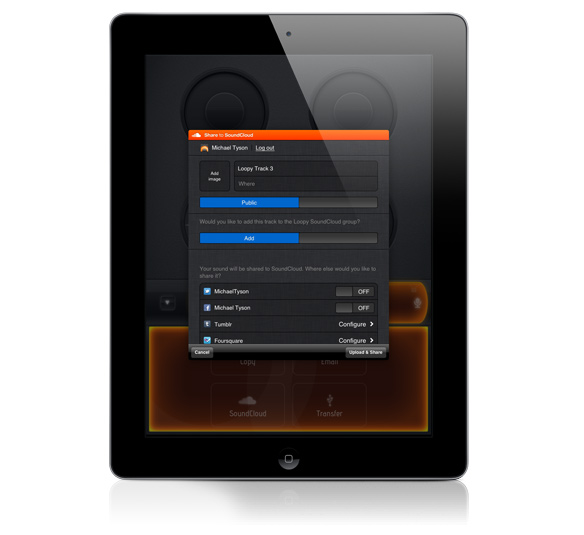 And finally, I've added a Japanese localization (こんにちは!), and updated the Italian one.
The update's in beta testing right now, and I'm expecting to submit it to Apple next week.