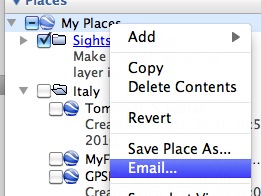 I've just implemented a way to import maps from Google Earth, which, like Google My Maps, allows you to create and edit groups of placemarks.
It's pretty easy:
Right-click on the group in Google Earth that you'd like to import (My Places to get everything)
Click "Email"
Address the email to [email protected]
Wait a minute or two, and you'll get an email back
Tap the link, if you're reading the email on your iPhone, and your new map will open straight up in The Cartograper. Otherwise, type the URL into The Cartographer's "Add Online Map" feature, to load the map.
Voila!
Side note: This also works with any old KML files you have lying around – just email them to [email protected].