A friend made an interesting suggestion to an issue I'm facing in the upcoming Loopy 2, and I thought I'd do some investigation: How many tracks can the MultiChannelMixer (kAudioUnitSubType_MultiChannelMixer) manage at once?
He was quite optimistic, and as it turns out, he was right: It's rather capable.
I modified the iPhoneMultichannelMixerTest sample project to add a bunch of channels, and measured how my iPhone 4 performed. It looks pretty linear: there's pretty much a 1:1 relationship between number of channels, and the CPU usage, actually.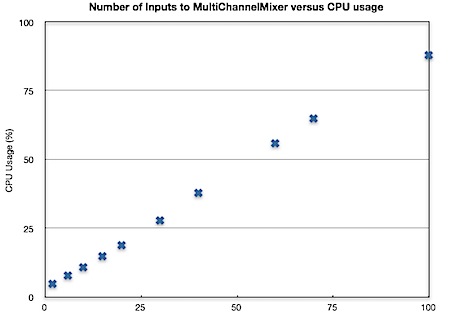 Of course, this is on the newest-most powerful iPhone, but there was no stuttering, and the interface (admittedly simple as it is) was fully responsive, including setting output volume, even with 100 channels. You'd probably want to stick with a maximum number of channels around the 75-100 mark, less for targeting lesser devices, but that's a pretty generous limit.
Not bad.
Update: Not such great news for the iPhone 3G I just tested this on, though — it freaks at anything more than 20 channels, and isn't too responsive with 20. The 3Gs seems to behave almost as well as the iPhone 4, but the CPU:channels relationship is more like 2:1.