Flickr has a limitation that your photostream is ordered by the date you uploaded your photos, and this order can't be changed. If you've done a big import of photos – say, from iPhoto – then they could show up in your photostream in any order.
There's been some talk about the issue, with one suggested solution being to manually set the 'posted' date of every photo to the 'taken' date. A utility exists to do this, but it has some major limitations, including a difficult user interface and limitation that causes the process to fail if you have any photos that were taken before the date you set up your Flickr account.
So, I've made a utility specifically for sorting a Flickr photostream. It should be fairly user friendly, and provides the ability to backup and restore your photo metadata, in case you ever want to revert.
Check it out here: SortMyPhotostream, or get access to the SortMyFlickrPhotostream source.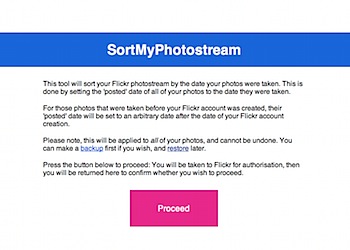 Leave a comment below if it's useful to you.