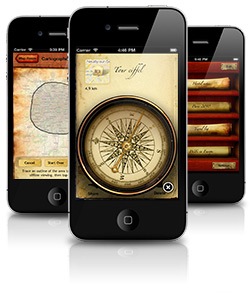 We've recently released version 1.2 of our vintage-styled Google My Maps app The Cartographer!
The new version introduces Navigon support, so you can get turn-by-turn navigation to any placemark on your map — this is great for researching then running errands, home or abroad. For example, need a new iPad? Search for "Apple Store" on Google Maps, click "Save To…" and choose a My Map (or use the new Clipper on any webpage with an address), then open it in The Cartographer, select the new placemark, and navigate there. Totally seamless.
The other new feature is an in-app compass which provides bearing and distance information to the selected placemark. A needle points to your destination, while the dial shows which way's north. Particularly useful for hiking — we used this just the other week in Exmoor National Park, and it was indispensable.
Grab The Cartographer 1.2 on the App Store, or find out more.