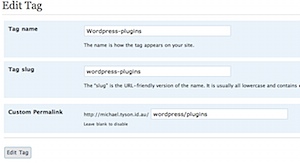 Custom Permalinks is a WordPress plugin that gives you ultimate control over your site structure.
Lay out your site the way you want it. Set the URL of any post, tag or category to anything you want. Old permalinks will redirect properly to the new address.
Support not available at this time: Unfortunately, I don't presently have the resources to offer support for this plugin. Please direct questions to the WordPress forums
Note: This plugin is not a replacement for the inbuilt permalink settings: Custom Permalinks is designed to modify permalinks on a per-post/page/tag/category basis, not for all posts/etc at once. If you wish to alter your entire site structure, spare your sanity, and change the WordPress permalink settings instead.
Download
Download Custom Permalinks for WordPress from the Custom Permalinks WordPress plugin page.
If you like Custom Permalinks, please consider buying one of my products.
Installation
Unzip the package, and upload 'custom-permalinks' to the '/wp-content/plugins/' directory
Activate the plugin through the 'Plugins' menu in WordPress
Edit any post, tag or category to set a custom permalink.
Configuration
Open or create a post, tag, or category.
Under 'Custom Permalink', type in a URL, not including the http://domain part of the address.

Save
Now, the post/tag/category will be accessible at the custom address.
Incoming visitors from old links will be redirected via a 301 redirect to the new address.
See Custom Permalinks in action right here! (See the address you're currently at?)
Notes
Interacting with other plugins which modify the URL
If you notice that some plugins, such as Keyvan Minoukadeh's Paged Comments plugin, are not operating correctly, then ensure that your custom permalinks have a trailing slash (or not, if your standard permalinks do not have trailing slashes).
The Paged Comments plugin, and possibly others, work by adding a path component to the URL to signify state (eg. /comment-page-1), then hiding that path component from WordPress.
If you have a custom permalink with a different trailing / configuration to your normal permalinks (i.e., your custom permalink has a trailing / when others don't, or vice versa), you will notice that these plugins no longer work, because Custom Permalinks is correcting the URL, which overwrites the plugin's changes.
If you notice this happening, make sure you have a trailing / on your permalink, or remove the trailing slash if your standard permalinks do not have a trailing /.
Hiding the custom_permalinks custom field
A user recently asked for this; I'm not going to include it in the plugin (some people, including me, want to see this field, because we set it manually sometimes), but I'm happy to make a plugin-let to make it happen.
Here it is: hide_custom_permalink_field.php.zip
Put it in your wp-content/plugins folder and turn it on in Plugins under WP admin.
FAQ
I just get a "404 error" message when I try to visit a custom permalink
Have you configured your default permalinks to be other than the default "?p=123" style? If not, you probably haven't got URL rewriting enabled. Either set your permalinks to one of the other options (or a custom layout), or add the following to your .htaccess file in your webroot, creating this file if necessary:
<IfModule mod_rewrite.c>
RewriteEngine On
RewriteBase /
RewriteCond %{REQUEST_FILENAME} !-f
RewriteCond %{REQUEST_FILENAME} !-d
RewriteRule . /index.php [L]
</IfModule>